St. Cloud Surgical Center Honors MLK's Legacy with Day of Service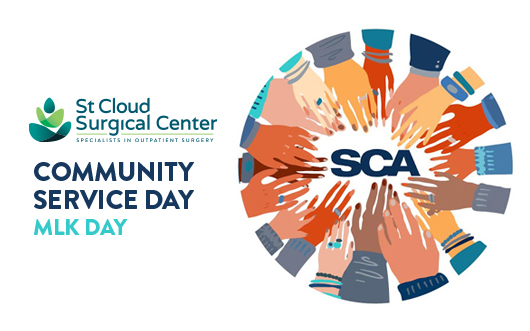 Dr. King once said, "Life's most persistent and urgent questions is: What are you doing for others?"

A Day On, Not a Day Off
Observed each year on the third Monday in January as "A Day On, Not a Day Off," Martin Luther King Jr. Day is the only federal holiday designated as a national day of service to encourage all Americans to volunteer to improve their communities.

Week of January 18th
St. Cloud Surgical Center will be hosting its first organized Day of Service on January 18, 2021 and will continue throughout the week. Staff are volunteering to donate and create "snack packs" that will be distributed to Central Minnesota non-profit organizations. Giving back to the Central Minnesota community is one of St. Cloud Surgical Center's core values.
The national Martin Luther King Day of Service was started by former Pennsylvania U.S. Senator Harris Wofford and Atlanta Congressman John Lewis, who co-authored the King Holiday and Service Act. It was signed into law by President Bill Clinton on August 23, 1994.

Consider doing something for others in honor of Martin Luther King.
---