Updated Look, Same Great St. Cloud Surgical Center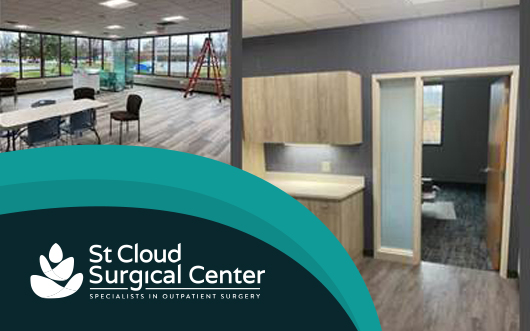 After a year of ongoing construction, the most recent expansion and remodel of the St. Cloud Surgical Center is complete. The remodel began in October 2020 and officially wrapped up in November of 2021. With a little over a year of work, we were able to add 7,500 additional square feet to our building, upgrade our sterile processing center, create updated spaces for our team, make exterior improvements, and much more. We recently sat down with St. Cloud Surgical Centers CEO Darci Nagorksi, and Facilities Director, Brad Kompelien, to hear more about the expansion and what that looked like on the front lines.

Q: First and foremost, what makes the St. Cloud Surgical Center so special?
D: We're a very unique operation. From a square footage standpoint, there's probably not another facility in the state that is a stand-alone surgery center of this size. We're a multi-specialty, 80% surgeon owner, and just the sheer size of it all is pretty impressive. Also, all of our patients go home the same day. Many other centers, especially with total-joint, have overnight stay, but ours all go home the same day. This is a unique and challenging model in itself.
B: And I think just having an intuition of this caliber with a hospital across the road that's an excellent facility for medical care is incredible. We have supported local doctors and the administration of these buildings, which isn't easy to manage, for fifty years.
D: It's like a mini-hospital!
Q: What was all done as part of the remodel and expansion?
D: The most significant, most noticeable part of the project was that we added about 7500 sq. ft. to the south side of the building. This expansion allowed us to triple the size of our sterile processing department, which cleans and sanitizes all the equipment we use for procedures. With the addition, we could enlarge the cafeteria about 3x the size of what it was. We have roughly 150 staff members who eat there, so we needed a decent size cafeteria! Additionally, we added a conference room and a new mechanical room to accommodate the sterile processing updates.
B: With the new space created for the sterile processing department, we converted their old work area into two larger, expanded ORs. These ORs are about 620 sq ft.
D: Which is standard in most places.
B: Correct. Standard at most places, but with our space, our ORs are generally 430 sq. ft., making this a big upgrade for us!
D: Yes, the surgery staff is really excited about this!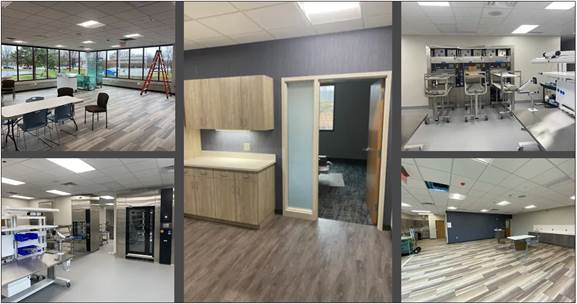 Q – Why was the expansion at St. Cloud Surgical Center needed?
D: In 2022, we'll be celebrating our 50th anniversary, and in that time, the types of procedures we do here have changed dramatically. When the building was built in the 90s, we predominantly did small cases, like ENT, eyes, and colonoscopies. All of which require little equipment. Over the past ten years, though, we've started doing a lot more orthopedic and spine cases. When you start getting into procedures like those that need more equipment, big and small, things have to change. Our sterile processing department was getting overwhelmed, and we didn't have the space to quickly turn cases over with clean equipment, which obviously didn't work. We needed that extra space for the OR rooms to accommodate the new equipment for these larger procedures. Most cases will have a robot, multiple staff members, computers, etc., and 430 sq. ft. was getting to be tight. Overall, we were challenged on various fronts, and the expansion was absolutely necessary.
Q: What was done to the interior of the Surgical Center to improve the space?
D: We added a lot of new lighting, wall coverings, tile, and new carpet to the remodeled areas.
B: The color scheme for the expansion and remodeled areas has been updated, too. It's now more of a gray color scheme vs. the browns and creams before. We still kept it neutral but switched to cool tones.
D: Overall, there wasn't a ton done on the interior. That's the someday project!
Q: What was done on the exterior and outside of the building?
B: We did a lot of work on the outside of the building, but the look is the same. As far as public perception goes, we put new signs on the building, but that's it. The new lit neon signs show off a lot better than our previous ones!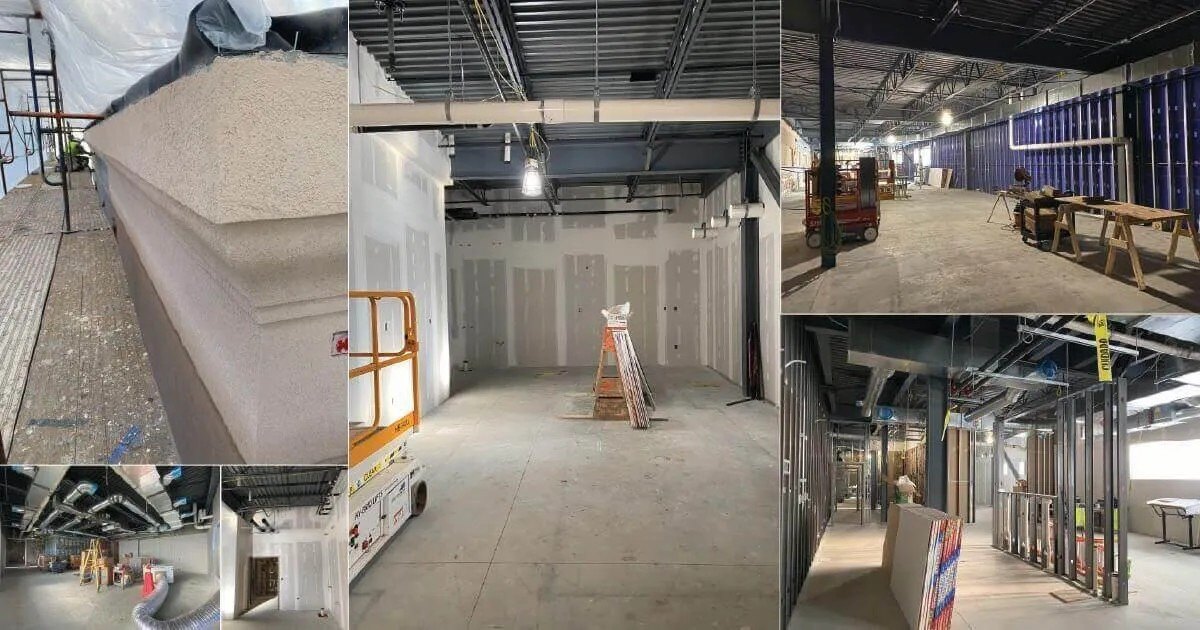 Q: How does the remodel improve the experience at the center for your patients?
D: You know, the unfortunate thing about all the work is the patients don't really know. It was really done from the operational side of things. We needed a better workflow for our teammates and have achieved that with all the updates to the sterile processing center and shared spaces like the OR and cafeteria. So, although they might not see it, ultimately, on the patient side the operational process is a lot safer and efficient for them. We're very happy to be able to say that!
Q: What was the response like to the new cafeteria?
B: Oh, I think our teammates really like it!
D – I would say pretty positive. Before the expansion, we had a cramped area. As we grew, that space remained the same, and it wasn't working anymore. Even though lunch runs from 10:30 AM to 1:30 PM, we were continuously challenged with getting enough seating for people. There's always a good hour when it gets really packed. We also cook lunch on-site in the kitchen connected to the cafeteria, giving our cook more space and control in the kitchen has been nice.
B – We also added some outside seating. There's only a limited number of staff who can use it, mainly non-clinical staff, but they really enjoy that.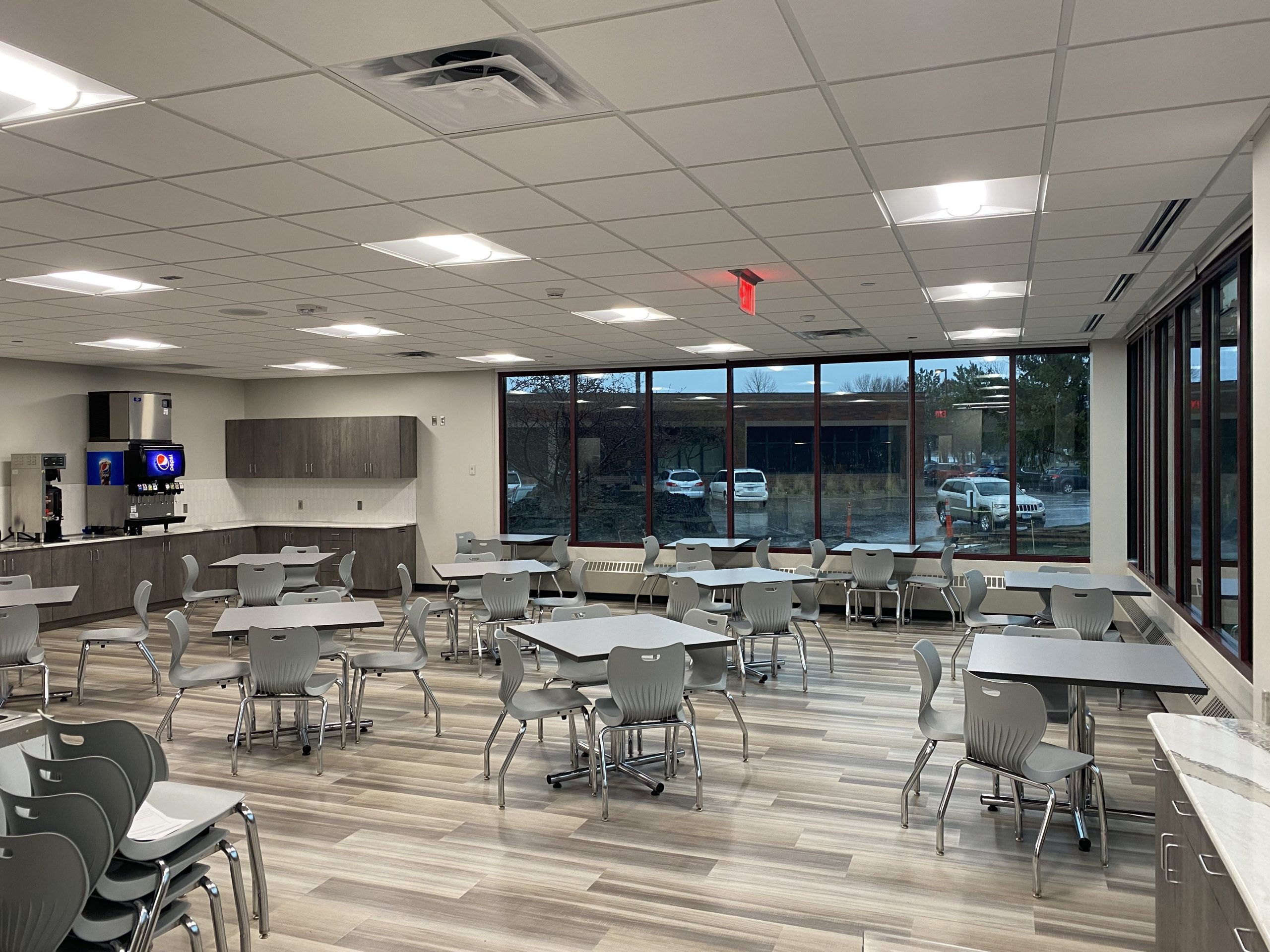 Q: Can you see more patients at a time now?
D: Yes, and no. When it comes to these larger procedures, like total joint, we can perform better, and in theory, since we have the new sterile processing department, we could do more. However, we still run into issues because we don't have additional admitting or recovery rooms. It all depends on the day; we did see a lot of growth this year, though! We had about 400 more total joints this year than last year. More people are choosing ambulatory surgery centers, which is great to see!
Q: Are you bringing on more surgeons and support staff to accommodate the growth?
D: At this time, no. It has pretty much been status quo on the number of surgeons we have here. Of course, we can welcome more, and there have been a couple added in the last year, but not necessarily in the areas that are growing the most.
Q: What is your favorite space that was remodeled?
D: There's a lot of things, so that's a hard one for me! From an operational standpoint, I would have to say the sterile processing center. That was a huge move for us because we so badly needed it. The previous space was not adequate at all. If I had to choose just one thing, though, I would pick the cafeteria because it's where everyone comes together. Our staff, surgeons, and even supporting staff, I mean everyone, eat in the same area. There's no separate physician room or a separate staff room. This is a unique feature, even to other ambulatory surgery centers.
B: For myself, it's the operating room because of the technology. We made a big leap with the equipment we have. Before, we didn't have what are called booms, and now we do. We have a new Stryker, cutting-edge boom technology, with a video matrix system where we can push video all over the room. That is the cool part because it's the technology you'd have at big facilities, and we have them here in our little center.
Q: 2022 marks 50 years as St. Cloud Surgical Center; how do you envision the next 50 years in this newly renovated space?
D: We still have our eye on the front part of the building and are working on making better accommodations for when patients are awake. That's definitely down the road, though! In my dream world, we would like to make our admitting rooms bigger and, for sure, our recovery rooms because it's just on the backside of the ORs. Again, these rooms are small because we weren't doing the type of cases back then as we are now. This is a hard task though because we have to work within our walls. So, ultimately, even if we can just cosmetically update, that would be huge. Right now, it looks tired. Is it functional? Sure. But some things would help it have better patient flow and an overall more positive experience. We definitely have more work to do to come full circle, but in good time!
B: In healthcare, it's pretty hard to look ahead 50 years. I mean, we started as the second surgical center in the country, and look where we are now. To look ahead that far? I'm kind of a visionary, but I couldn't get to that point. I've been here 20 years; I can't imagine the changes in ten, even another five years.
Q: Do you have any final thoughts about the project and what could come down the road for St. Cloud Surgical Center?
D: We came a long way in what we did. It was hard. People were working through it the whole time.
B: There was very little space that wasn't occupied by people working other than chunks that were getting worked on.
D: It took a lot of coordination. Brad and his group did a lot of work with our contractors and their subs. Kind of glad it's done.
B: Mortenson Construction did a great job. Great to work with. Very knowledgeable. They were a huge asset to us and what we did here. I don't know if there are a lot of companies who would have been able to survive it like we did.
D: We had quite a challenge just trying to remodel in a building like this. The amount of additional square footage we added and trying to then combine elements of a building to another part with proper airflow, HVAC, etc., is not manageable. Then we add working in sterile areas where you have to be very careful and not to mention a global pandemic; the odds were not great. We had to work really hard to make this happen. With that being said, we would be excited to do something to patient recovery and admitting side; it will be a challenge. We have to continue working just like we did here and add patients to the mix this time. We'll definitely get there, but it's going to take a lot of planning.
B: It's quite a feat when you look back over the history of the surgical center and this building.
D: Right? And the growth we've had. St. Cloud Surgical Center started downtown in this little building in 1972 and moved to this space in the early 90s. To walk the halls now and see this is incredible. Fifty years is really special, especially in healthcare, and not being bought out. We've always been locally operated and partially surgeon-owned. It feels good to say that. I'm excited to see what's next for us!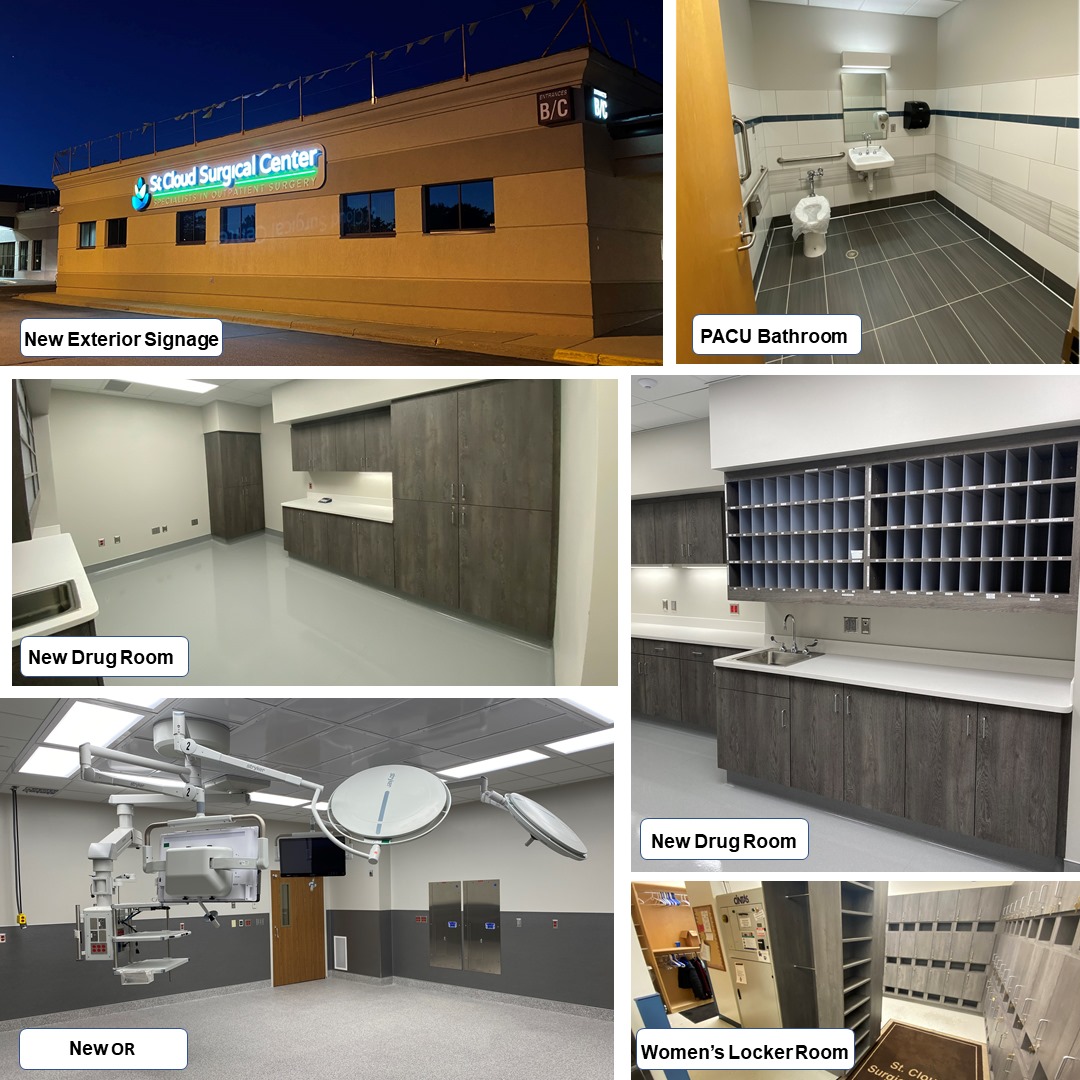 ---