St. Cloud Achieves Advanced Orthopedic Certifications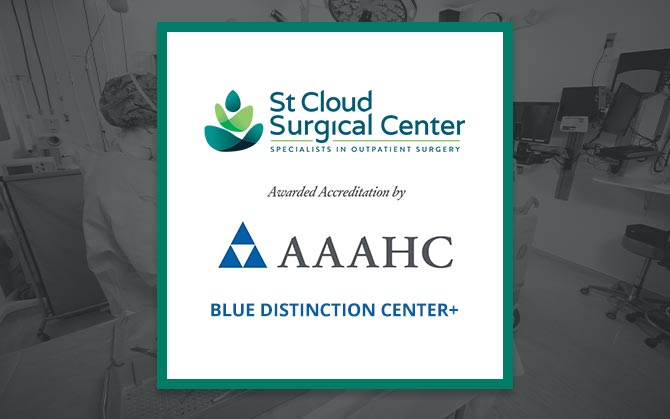 St. Cloud Surgical Center Achieves AAAHC Advanced Orthopedic Certification & Designation as a Blue Distinction Center for Knee and Hip Replacement
St. Cloud Surgical Center has achieved Advanced Orthopedic Certification by the Accreditation Association for Ambulatory Health Care (AAAHC).
Certification is based on patient outcomes and built on accreditation requirements.
This means St. Cloud Surgical Center has met the highest level of nationally recognized standards for the provision of quality health care set by AAAHC.
AAAHC Certification demonstrates the use of evidence-based clinical practice guidelines, ongoing performance improvement strategies, and an effective organizational infrastructure aimed at providing safe and effective care.
St. Cloud Surgical Center has also received designation as a Blue Distinction Center for Knee and Hip Replacement through BlueCross Blue Shield Minnesota. The Blue Distinction Centers designation signifies that their Knee and Hip Replacement Program met nationally established Selection Criteria by demonstrating expertise in delivering quality specialty care, safely and effectively.

Blue Cross Blue Shield of Minnesota identifies providers on bluecrossmnonline.com. These postings are an important component in differentiating designated providers and help Blue members make better-informed decisions about where they seek specialty care.
St. Cloud Surgical Center has completed over 1,542 joint replacement surgeries since starting its program in 2014.
---