PATIENT TESTIMONIAL: Jan S. on Total Knee Replacements with the VELYS™ Robotic-Assisted Solution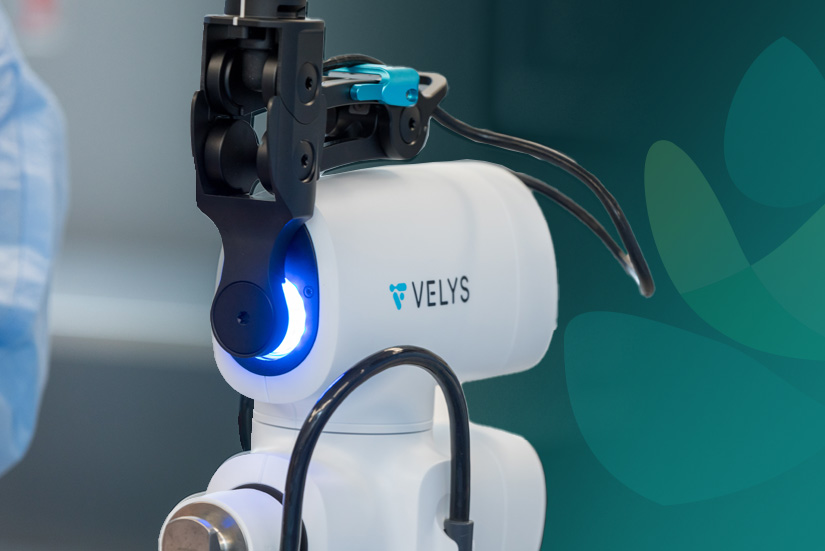 There is nothing better than hearing a patient's success story. Watching their life transform because of our work at St. Cloud Surgical Center is genuinely humbling. Many of us have dedicated our lives to achieving the highest quality patient outcomes, including Dr. Eric Green, our resident VELYS™ Robotic-Assisted Solution expert. We recently sat down with one of his patients to hear about her total knee replacement experience at our center.
SCSC: Hi, Jan. Thanks for sitting down with us today. Can you tell us a little bit about yourself and what brought you to St. Cloud Surgical Center?
JAN: Hi, thank you for having me. It's a pleasure to be here and talk about my experience. My name is Jan, and I am a St. Cloud, Minnesota, local. My husband and I have lived here for many years. I came to St. Cloud Surgical Center in November of 2021 for a total knee replacement under the care of Dr. Eric Green. After 30 years of knee pain and losing my ability to walk comfortably, I knew it was time to undergo surgery. While researching, I came across Dr. Green and the VELYS™ Robotic-Assisted Solution. We met, and the connection was great right off the bat. After our initial meeting, we discussed a total knee replacement and moved forward with a surgery plan.
SCSC: That's great! Dr. Green is an excellent surgeon. Can you share more about your experience and why you needed a total knee replacement?
JAN: Well, 30 years ago, I had an injury that completely blew out my ACL, and at that time, they just scraped it away vs. fixing the issue. So, I was living without an ACL for many years. This led to extreme instability and arthritis that kept growing. Everyone told me to put off a knee replacement as long as possible, so I did. I believe this was my time, but I wish I had looked into it sooner. I went into the experience with pretty low expectations. I thought if I could reduce my pain to 40%, well, then that would be amazing. I had no idea I would walk out of here pain-free!
SCSC: Pain-free? Wow, that's amazing. So, would you say that your life has changed pretty dramatically since your surgery?
JAN Oh, absolutely. I feel amazing now. I really cannot even begin to tell you the difference. Since my surgery, I have dropped 65 pounds simply because I can move again. I am riding a bike, kayaking, and taking up golf. All things I never imagined doing in my life again, but here I am. And to think, I simply wanted to walk across my yard with no pain.
SCSC: That's incredible. We're so happy for you. Why do you think your pain improved so drastically?
JAN: I think the use of robotics played a role in my pain reduction and recovery. When I was doing research about the VELYS™ program and how precise it can be, I was amazed. By putting in my exact measurements, Dr. Green and his team were able to make a knee that was specific to me. The precision no doubt lessened my pain and shortened my rehabilitation period. It might not be like this for everyone, but I completed my physical therapy in less than two months. I was able to pass the bend test quickly, and now I use my knee every day so it can stay in good shape.
SCSC: Speaking of Dr. Green, how was he during the process?
JAN: He was remarkable. He was very understanding and patient with me. Having had a questionable experience in the past, given my ACL surgery, I was a bit skeptical. He listened to my concerns and eased my worries. Ultimately, he is learning these new techniques to bring less pain and faster healing to his patients. It takes a wonderful surgeon to care that much. When I look back now, I remember him kind of laughing – in a kind way – when I mentioned my goal of walking across my yard. He clearly knew I would be able to do so much more.
SCSC: We are fortunate to have Dr. Green on our team. Would you like to share anything else about your experience?
JAN: I think it is just incredible to realize that a total knee replacement can be done in a setting like this allowing you to leave the same day. Had I known that earlier, I may have been pain free a long time ago.
SCSC: It is pretty remarkable, isn't it? Okay, last question. Would you recommend the same surgery and/or St. Cloud Surgical Center to a friend?
JAN: Wholeheartedly. Yes, I would recommend this procedure and facility to anyone who would listen. And I would tell them not to wait! If you have knee pain and it's impairing your movement or lifestyle, just get it done. You will not regret it.
SCSC: Thank you, Jan, for all of your kind words. On behalf of everyone at St. Cloud Surgical Center, we are thrilled to hear about your success and that you are back to living the life you deserve!
If you are experiencing knee pain like Jan, don't wait to contact one of our experienced surgeons. The solution you have been waiting for could be right around the corner. Contact us today for more information on joint replacements at St. Cloud Surgical Center.
---