All about minimally invasive spine surgery with Trevor McIver, MD and Joel Shobe, MD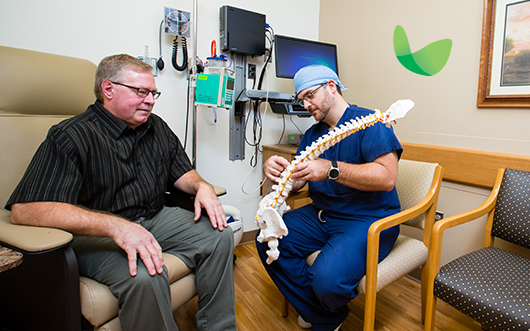 We recently sat down with Dr. Trevor McIver and Dr. Joel Shobe, spine surgeons at St. Cloud Surgical Center, to ask a few burning questions about minimally invasive spine surgery. Read on for more information!
From 1996 to 2016, Americans spent an estimated $134.5 billion seeking help for back or neck pain. The cause for such pain? Longevity and lifestyle. While it's great to see humans living longer, our bodies weren't designed for such high life expectancy combined with a sedentary lifestyle and unhealthy exercise habits. If you suddenly find yourself in a situation where you're missing work, losing time with family, or simply not as active as you once were due to discomfort, St. Cloud Surgical Center can help.
Do You Need Spine Surgery?
At St. Cloud Surgical Center, we understand surgery may not always be the best route for patients. Sometimes, therapy, medication, and alternative methods can be beneficial. When it comes to back or neck pain, surgery may become necessary in cases such as disc herniation or bone spurs where a nerve is being pushed upon or pinched.
Whatever the reason for your pain, our highly skilled surgeons will find the cause and provide the best course of action. If surgery becomes your best option, the expertise and ongoing training of McIver, Shobe, and other surgeons at our center, will provide you with the most advanced surgical care available today.
Click here for more on spine procedures performed at St. Cloud Surgical Center.
Traditional Spine Surgery vs. Minimally Invasive Spine Surgery
The main difference between traditional spine surgery and minimally invasive spine surgery is the recovery time. With minimally invasive procedures, patients can recover more quickly after surgery because they are faster, safer, and cause less trauma to muscles and soft tissues of the back. While the long-term benefits of traditional spine surgery and minimally invasive surgery are almost identical, the main difference comes in the weeks to months during the recovery period. Hear more about minimally invasive surgery and recovery from Dr. Trevor McIver.
Benefits of Minimally Invasive Spine Surgery
Along with quicker recovery times, minimally invasive spine surgery boasts many additional benefits, including:
Better cosmetic results due to smaller incisions
Less blood loss
Little to non-muscle cutting
Reduced risk of infection
Reduced risk of postoperative pain
Less time for rehab
We can attribute these benefits to the many technological advances that have been made in the last 30 years. Learn more about them from our very own Dr. Joel Shobe.
Next Steps For Relief
If you find yourself among the millions of people with back and neck pain who want solutions, St. Cloud Surgical Center is here for you. As innovative leaders with next-generation technology for spine treatment, our surgeons can safely and effectively perform even the most complex procedures that result in faster recovery times while spending less out-of-pocket.
Bottom line. There is hope for your back and neck pain. Contact us today for more information!
Learn more about Dr. McIver and Dr. Shobe at StCloudOrthopedics.com.
SOURCES:
https://www.healthdata.org/news-release/low-back-and-neck-pain-tops-us-health-spending#:~:text=Americans%20in%202016%20spent%20an,and%20public%20and%20private%20insurance.
https://www.healthline.com/health-news/low-back-and-neck-pain-top-us-spending-on-healthcare#What-to-do-about-it
https://www.aans.org/en/Patients/Neurosurgical-Conditions-and-Treatments/Minimally-Invasive-Spine-Surgery